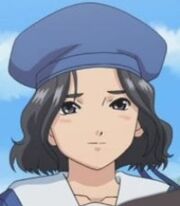 Shiho Sakakibara (榊原志保, Sakakibara Shiho?) is a freshman in electronics at Nekomi Institute of Technology. She is also a second year correspondence course student in exorcism. Shiho first makes herself known to Keiichi through a secret letter that Keiichi, Urd, and Belldandy take to be a love letter. When Keiichi approaches the rendezvous mentioned in the letter with Belldandy and Urd, he finds that she is indeed very cute. However, she does not seem interested in a relationship with Keiichi, rather only to find out whether or not he is possessed by a demon. She is invited back to Keiichi's residence. At times, she becomes too friendly with Keiichi, making Belldandy jealous.

Voiced by Asami Sanada (Japanese)
Ad blocker interference detected!
Wikia is a free-to-use site that makes money from advertising. We have a modified experience for viewers using ad blockers

Wikia is not accessible if you've made further modifications. Remove the custom ad blocker rule(s) and the page will load as expected.